A stellar showcase of globe-spanning talent and showmanship.
Tobias Sammett's Metal career began when he was only 14(!) years old with the band EDGUY. By the late 90s, he had formed the Metal Opera side-project AVANTASIA. Their 2016 release 'Ghostlights' is a masterful collection of hook, intricacy, and exceptional performances.
By the time the 12-minute epic "Let the Storm Descend Upon You" descends we're hooked with its powerhouse guest vocals from Jørn Lande, Ronnie Atkins, and Robert Mason.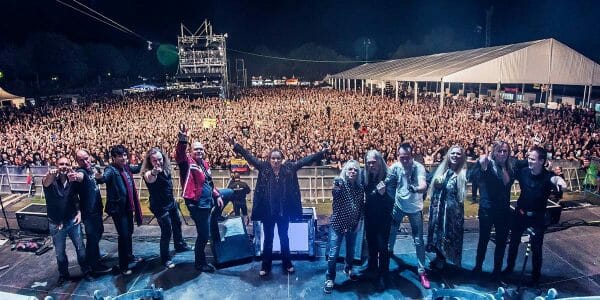 Avantasia–and a few of their fans.
While Tobias Sammett's nasally soar admirably holds up alongside the extraordinary Geoff Tate on Saharan Rocker "Seduction of Decay". And fellow Metal/Rock vet Michael Kiske shares the stage with Lande on title track "Ghostlights" and the 80s Metal of "Unchain the Light".
TWISTED SISTER's Dee Snyder does his best Alice Cooper impression on choral opera "The Haunting". With TAROT/NIGHTWISH vocalist Marco Hietala absolutely killing on the Power/Prog anthem "Master of the Pendulum", easily the heaviest and, perhaps, the best song here. And, this time, Sharon den Adel (WITHIN TEMPTATION) proffers the female role for a duet with Tobias (an AVANTASIA album standard) on melodic ballad "Isle of Evermore".
Thematically 'Ghostlights' sweeps into dark recesses, allowing the full range of guest talent a deeper wellspring of emotion to draw upon. Creating a spiritual successor to other melancholic monuments of Prog like 'The Wake of Magellan' and 'Operation: Mindcrime'.
The frustration I feel listening to AVANTASIA is knowing what Sammett is capable of when tackling music apart from traditional Heavy Metal. With his last decade comprised of much less inspired EDGUY I have to wonder if, perhaps, it's time for Tobias to drop roots and pursue this project full-time, instead?
AVANTASIA's 'Ghostlights' nicely enhances this band's already impressive catalog of Prog Rock/Metal Operas. The year 2016 is off to a glorious, grandiose start.
–BTW, the six-vocalist Power Rocker Digibook-only bonus "Wake Up to the Moon" absolutely mandates an upgrade to a physical copy.