Back when DEF LEPPARD meant punch the walls Rock and f*ckin' Roll!
English rockers DEF LEPPARD's anthem heavy 'Pyromania' and sell-out Pop monster 'Hysteria' stand as their most recognized works. Which is criminal as their 1981 release 'High 'n' Dry' is easily the best they've done. An album devoted entirely to everything that once defined Rock and Roll: booze, drugs, and heartbreak.
Rough around the edges axemen Pete Willis and Steve Clark keep this album drenched in blues fire; Rick Allen battles his drum kit in absolute sonic fury; and vocalist Joe Elliot's scratch and swagger unleashes a punkish bite. While producer Robert John "Mutt" Lange and engineer Mike Shipley give the record an AC/DC styled bark.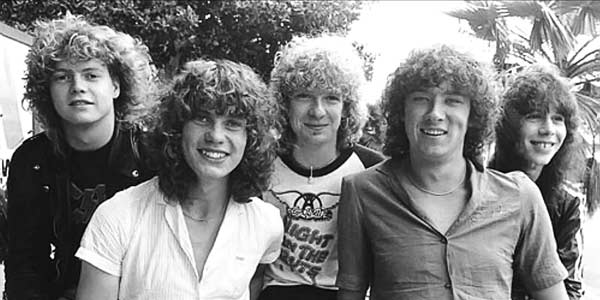 Def Leppard, unpolished youth.
A few missteps stay perfection. However, there's plenty to love. Including the drunken swell of opener "Let it Go"; sweeping solo-fest "Another Hit and Run"; the barroom boogie of "You Got Me Runnin'", the crying guitars in 'Mirror, Mirror"; and rampaging closer "No No No".
And sitting among the best songs of the 80s is immortal riff monster "High 'n' Dry (Saturday Night)" and embittered rage ballad "Bringin' on the Heartbreak". Try digging those ear worms out.
No foo foo crap here; even the "slow" songs bite back. With a looser style then on their sleek debut, DEF LEPPARD found a nice balance of 70s blues attitude and the radio friendly Hard Rock that would define their follow up 'Pyromania'. If you want to hear what these guys sounded like before they sold their souls to "Pop and Roll", 'High 'n' Dry' is an essential listen. If you prefer the hollowed out spirit of 'Hysteria', seek counselling and stronger medication.