Folk Rock meets Symphonic Metal?! Another glorious adventure from the land of Oz.
Remember when listening to really good music also meant listening to something fun? I do. And Spain's Mägo de Oz is able to deliver just what I need/want. 2014's 'Ilussia' is another triumphant of Folk Rock/Metal presented by a standard bearer of the genre. It may not be as Earth shattering as its predecessor 'Hechizos, pócimas y brujería'. But, there's a ferocity within like never before.
The flute intro for "Pensatorium" leads into an honest to god Symphonic Metal assault complete with operatic choruses, steely guitars, and blinding Power Metal speeds. And it's not a fluke. This Folk Rock collection gets plenty of Metal intensity spread about throughout.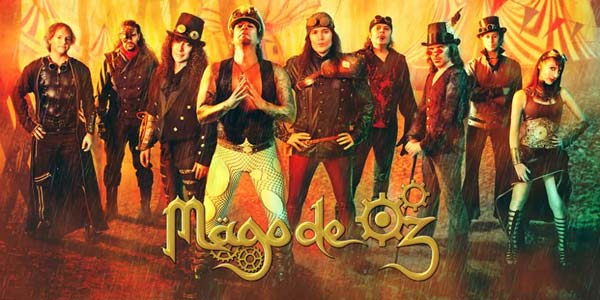 Mägo de Oz, let the circus begin.
"Melodian" keeps the flute, loses the opera, and adds loads of fun. The "ear-worm invasion" continues with the sing-along album highlight "Pasen y beban", the reflective flute-worms of "Cadaveria", and pirate shanties "Abracadbra" and "Salvaje". And "De la piel del diablo" harkens classic 80s era Hard Rock.
While the epic Prog of 8-minute title-track "Ilussia" layers the festivities with abundant guitars, chorals, fusion keys, violins, flute, operatic soprano, bass solos, piano, and I even heard a kitchen sink.

Like on 'Hechizos' Josema's flute plays a significant role in flavoring these songs. As does Mohamed's violin. Expanding the strings with guest musicians brightens the soundscape even more. While Zeta and Patricia Tapia "share" the lead vocals. Even drummer/band founder Txus Di Fellatio sings on a track. Guitarists Franka and Carlitos provide the riffage with Fernando Mainer on bass and Javier Diez on keys. A nine member band (plus extras) with nary a wasted note or performance. These guys can take the music anywhere they want, without limits.
With 13 tracks at 65 minutes there's bound to be a little padding. Thankfully, only a couple of songs stand out for being less than stellar. And nothing derails the flow. A plethora of killer melodies/choruses that get burned into your soul.
Bottom line, Mägo de Oz is fun! Inviting, accessible songs that beg to be hummed throughout your day. The layering and complexity only adds to the charm, never once seeming pretentious or "arty". 'Ilussia' is the kind of album you WANT to listen to, it just makes you smile.
–P.S. As I don't understand a word of Spanish, I haven't got a clue what these guys are singing about. And it doesn't matter one single bit.