A misunderstood masterpiece of Classic Rock.
Many people think of LED ZEPPELIN as Heavy Metal. They're not. And 1979's 'In Through the Outdoor' is a prime example. This is blues-based Classic Rock that has more in common with Muddy Waters (or, perhaps, Bob Marley) than with any Metal contemporaries like BLACK SABBATH or JUDAS PRIEST.
Early ZEP stood out from the psychedelic bands of the late 60s by being harder and tougher. And yes, at times, ZEPPELIN played some Heavy Metal; both 'III' and 'Houses of the Holy' have shining examples. However, most of their iconic material is pure R&B Rock performed by musicians uncompromising in their art.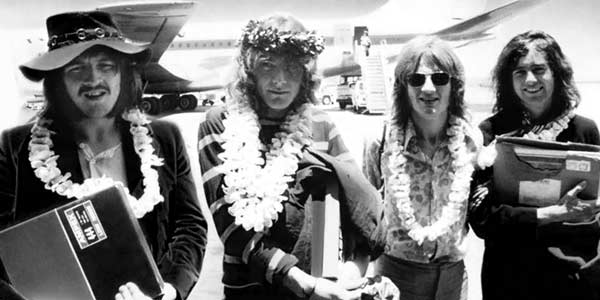 Led Zeppelin during their prime.
When I first heard "In The Evening" I thought, awesome, another monolith of 70s Metal. It's a towering wall-of-sound achievement. From the epic mystical lead-in, into an ethereal Robert Plant, and then John Bonham's amazing drums played out over the instantly recognizable synth melody for nearly seven dreamlike minutes.
Then the scope of the entire album changes, dramatically. The blues country ramble "South Bound Saurez" is anything but Metal. And "Fool In The Rain" continues as a triumph of 50s era Rock & Bop mixed with island calypso and reggae. Where's the guitar? Who cares?
The keyboards/synths on 'In Through the Out Door' completely envelop as Jimmy Page's guitars all but disappear for big chunks. Apparently, both Page and Bonham were struggling with addiction issues; leaving Plant and keyboardist/bassist John Paul Jones to craft much of these songs on their own. Making this more a pseudo Robert Plant solo debut than anything LED ZEPPELIN. Plant is on fire as he dances around the poetical lyrics.
Ten minute experiment "Carouselambra" is Prog Rock on 'shrooms. Bass solos, crazy synths blurps, and guitars spread around as Plant drifts in and out. While the soothing slow-burning anthem "All My Love" becomes the best song Plant ever sang, without doubt. Ending on the Blues burner "I'm Gonna Crawl" and its exquisite, endless Page solo.
Many fans rejected this "softer" sound, which, as it turns out, was tragically irrelevant. Page and Bonham wanted a return to harder rock for the next album. Alas, it was not to be. Bonham died the following year and ZEPPELIN was no more.
There is no reason not to like LED ZEPPELIN's swan song 'In Through The Out Door'. It shows more variety, energy, attitude, and musical talent in its short 42 minutes then most multiple decade long bands' entire catalogs. And Robert Plant would take what he did on this album and evolve it into a phenomenal solo-career spanning the next three decades. A monolith of 70s Rock that demands your attention.