To experience this much joy listening to Devil music has to be a sin.
Swedish Black Metalers GHOST defy all in delivering one of the best Rock albums of the year.
Since their stunning 2010 debut this revolving door of (mostly) anonymous musicians have quietly shifted towards more accessible sounds. 2018's 'Prequelle' is an amazing retro-fied achievement. And unlike so many that have attempted such bold adjustments this evolution is both organic and welcomed.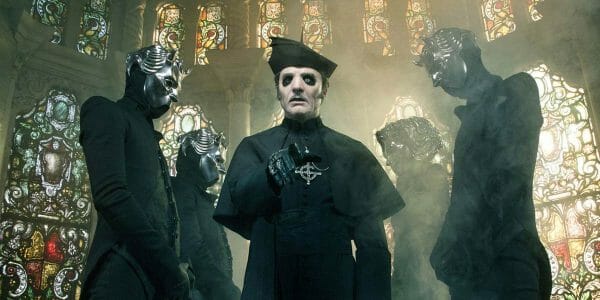 Ghost, these guys look fun.
From the opening Arena Rock of "Rats" into the unholy Power anthem "See the Light" GHOST perform a confident blending of classic 70s era Prog and 90s Alt. Turning Black Metal's trappings inside out makes Satan worship, and all that entails, seem invitingly (uncomfortably) festive.
Instrumentals "Miasma" and "Helvetesfontster" could naturally (and proudly) sit on any 1970s-era RUSH album with glorious Prog Rock sweep and dive.
Invoking 80s Power, album highlight "Danse Macabre" completely stuns while "Witch Image" emulates the best of Classic Rock by building reflective choral hooks that stick. And the haunting closer "Life Eternal" offers up a truly maniacal love ballad sacrifice to the altar. Stellar songcraft.
Frontman Tobias Forge performs under his newest identity Cardinal Copia proclaiming the remaining talent as simply "Nameless Ghouls". Prioritizing the art and not the artist(s) has always been an integral part of GHOST's unholy creed and 'Prequelle' is most decidedly, exquisitely art.